QMSCAPA Software for International and Quality Management Systems

The QMSCAPA single user license is FREE and sponsored by ABCI ISO Consultants

Download Files | User Guide & Screen Shots | Multi-user License Prices

QMSCAPA stands for Quality Management System, Corrective Actions and Preventive Actions. QMSCAPA is a Microsoft Windows compatible computer application, which is designed to generate a CAPA log for a Quality Management System based upon the ISO 9001:2015 Standard, among others.

QMSCAPA includes measurement and monitoring tools, which includes Customer Satisfaction Surveys, On-time Delivery Log & Calculator, Internal Auditing reports, Management Review and more essentials.

Features in Version 1:

Corrective Action Form & Log
Custom CAPA form generator and CAPA report builder
Customer Satisfaction Survey Log & Calculator
FDA 21 CFR 11 & 820 Compliance
Graphical Charts for Quality Measurements, Key Performance Indicators, Customer Feed-back and CAPAs
Internal Audit Plan and Internal Audit Report for multiple standards, including AS9100, AS9110, AS9120, IATF 16949, ISO 9001, ISO 13485, ISO 14001, ISO 17025, ISO 22716, ISO 27001, ISO 45001.
Management System Dashboard for Measuring & Monitoring Over-all Performance and/or Quality
Manufacturing & Production Quality Metrics Calculator
Module for logging Corrective Actions and Preventive Actions
Module for logging Customer Complaints and other feedback
Module for maintaining a master document index and revision journal.
Module for logging Non-Conforming Products
Module for recording personnel competencies
Module for evaluating outsources, suppliers and vendors
Module for Employee Training Programs, Training Schedules and verification of training effectiveness
Monitoring and Measuring Device Database
Multilevel access security and control.
On-time Delivery Log & Calculator
Preventive Action Form & Log
Purchasing Quality Metrics Calculator
Risk Assessments and Management (Pre-mitigation & Post-mitigation)
Sales Quality Metrics Calculator
Support for multiple languages
Support for multiple simultaneous users

A Corrective Action Request and Preventative Action Request tracking software system is essential for any quality system. It is a regulatory requirement that the FDA and other international regulatory inspectors and ISO auditors consider mission critical. When implemented properly, a Corrective Action (CAPA) software system improves product quality and safety, increases customer satisfaction, and more importantly, contributes to FDA and ISO compliance.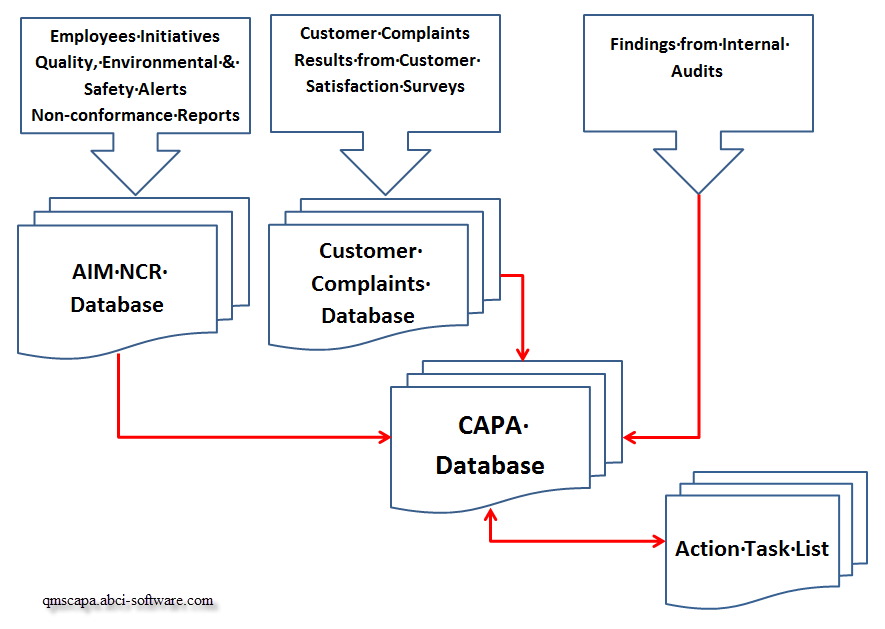 Computer Requirements:
Windows 7, Windows 8, Windows 10 or;
Windows 2008 Server, Windows 2012 and Windows 2016 Server
ABCI recommends Windows 2008 Server, or higher with Remote Desktop Services (Remote Desktop Connections) for simultaneous multiple Remote Desktop Users.